Memorial Day Brings Reminders of Sacrifice, Obligations
Staff Reports, iBerkshires Staff
05:29PM / Monday, May 28, 2018
---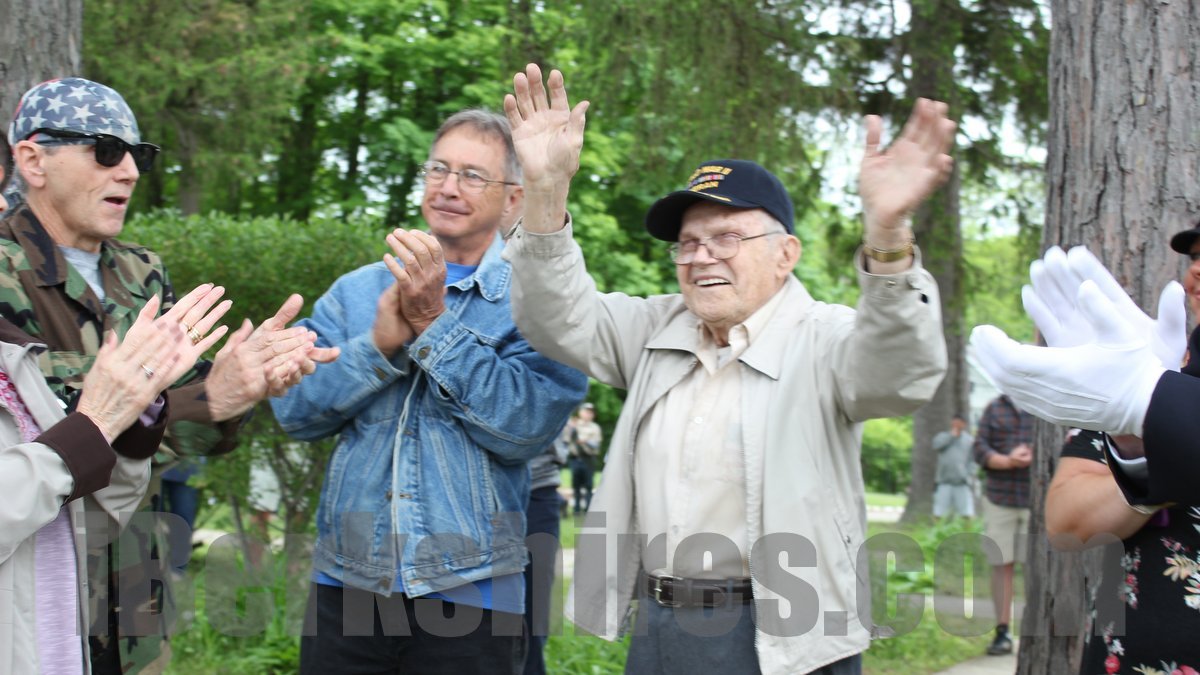 ADAMS, Mass. — It was some 55 years ago that Francis Bourdon stood in Maple Street Cemetery to recite the Gettysburg Address as a member of Boy Scout Troop 38.
"If you had told me that someday I would be speaking here, I would have laughed," said the retired lieutenant colonel on Monday at the annual Memorial Day service in Adams. "One day in the not too distant future one of the youths here may have that honor ...
"You're embarking on a life of adventure secure in the freedoms by the sacrifices of your parents, your relatives and generations of heroes they will never know. They symbolically paid it forward for you to enjoy the fruits of this great nation and the security of your rights guaranteed by our Constitution."
The retired National Guard and intelligence officer's speech in the cemetery was representative of the many observances being held across Berkshire County — and the nation — on Memorial Day. Parades and speakers and bands and songs offered both patriotic gestures and solemn remembrances on a day set aside to honor those killed in defense of America and our freedom.
In Adams, Paul Hutchison of Adams American Legion Post 160 was the master of ceremonies and the Rev. Matthew Guidi of St. Mary's Church in Cheshire gave the prayer. Hoosac Valley High and Middle School eighth-grader Tyler Norcross read the World War I poem "In Flanders Fields" and junior Suki Liang recited the Gettysburg Address. The Hoosac Valley band performed and Tom Brown and Hannah and Aiden Koczela performed patriotic songs. Also recognized was World War II veteran Frank Lazarczyk.
The ceremony at the cemetery followed a parade that included veterans and Scouting groups, Adams Alerts, Adams Police officers, Adams Ambulance Service, and children with bicycles bedecked in red, white and blue.
Bourdon said he was inspired by several things in writing his speech: the recent March For Our Lives, Maslaw's hierarchy of need and "Rally Point," a book with thoughts on how to revitalize and reunite the country.
Assuring basic needs of life and liberty would allow, as Thomas Jefferson believed, for humans to pursue excellence or the pursuit of happiness, he said. But that freedom is not free — it requires sacrifice and duty and responsibility.
Past veterans "served with the understanding that sacrifices even unto death would be required to keep the greatest country and social experiment in history alive and strong for their future and their children's future," Bourdon said. Future generations will also have obligations but they may not find it in the armed services, he continued, but in law, politics, public safety, and other professions, and, at the very least, to be informed citizens who vote.
"When they vote they have the personal responsibility to understand the issues and the positions of the politicians they are voting for as they will determine our future," he said. "Sometimes understanding the opposing viewpoint is uncomfortable but necessary in order to break out of the constraints of their personal sphere of influence and arrive at a knowledgeable and defendable position on the issues. ...
"It requires effort to balance intellect with emotion and arrive at a responsible conviction."
Speakers in Clarksburg also spoke of sacrifice and obligation, especially the obligation of leaders to be forthright with the constituents.
Town Administrator Carl McKinney said it was imperative for a democracy to have leaders who are truthful — that the endeavors they embark upon that put our nation's treasure in the line of fire be "necessary and noble." Questioning is an American trait, he said, and we are obliged to determine if our leaders are "straight shooters" because we entrust them with great power.
"The brave men and women who have served our nation so diligently and courageously over the 242 years of our republic have over the centuries relied upon truth from our leaders. Truth from each other. Truth that the cause they are asked to defend is indeed honorable, necessary and truthful," McKinney said. "We entrust our leaders with great power from this nation and, in return, they must safeguard the vital commonality that is expected — namely truth!
"For without truth how can we, the holders of democracy, the voters holding the levers of power, make an
informed decision?"
The ceremony was held at Town Hall, where the town's honor roll and monuments to its veterans reside. Joseph Bushika of Peter A. Cook VFW Post 9144 was master of ceremonies, giving several readings and naming those the town lost in the nation's wars.
Lynette Farnsworth sang the "Star-Spangled Banner": Lilli Meehan, Mia Parise and Emily LaBonte gave the Gettysburg Address; the Clarksburg School band played two selections, and the Volunteer Fire Department stood as honor guard to give a three-volley salute.
Ron James, past commander of Richard A. Ruether American Legion Post 152 in Williamstown and an Army veteran, reminded the gathering that they are the legacy of those who fell to make freedom possible for them.
"Regardless of the place or the war they fought, their purity of sacrifice is without question," he said. "Young men and women lost their lives in order to make freedom for others possible."
Like the "brash aviator from Arizona earned a reputation for recklessness," Frank Lukes, who won 18 aerial victories against the Germans in World War I. Shot down at the age of 21, he defended himself on the ground with a pistol until he fell dead. He was the first pilot to be awarded a Medal of Honor.
Or Sharon Lane, who joined the Army as a nurse and spent her time in Vietnam under almost constant barrage in an evac hospital, and was killed at the age of 25 when a rocket burst through her ward. The only nurse killed from direct fire in the war, she doesn't have a Wikipedia page or a medal, but "she was where she wanted to be," caring for others.
"The heroes we remember today are not exclusive to any gender race or religion they are a diverse group wedded to the common principle that America is worth dying for," James said. Not all die in combat but they still fall in service to the nation and its people. "We observe Memorial Day every year but these families remember the fallen ones every day ... It is up to us to hear the voices of these families."
Attendees at Monday's Memorial Day ceremony at Field Park in Williamstown were reminded that not all war casualties die before the war ends and not all heroism happens on the battlefield.
Town Veterans Agent Michael Kennedy told the crowd about several of the men and women he has worked with in two decades at his current posting and about some of the battles they have fought on the home front to receive the benefits they earned overseas.
"You'll meet a family today who will tell you their loved one, if he'd been killed in battle in Vietnam in 1970, he'd have been better off," Kennedy said. "Instead, he came home and suffered [post-traumatic stress disorder] … and became an alcoholic. His family turned away for obvious reasons. They couldn't live with him.
"And where did he die? He died at the age of 32 in a VA hospital in Albany. Have you ever gone to a VA hospital and look around? You won't be very impressed.
"He died of brain cancer. Well, Agent Orange has nothing to do with cancers. Yeah, right."
Kennedy, who said he has stayed a veterans agent out of contempt for the U.S. Veterans Administration, talked about the forgotten heroes of every war who came home in one piece but died, sometimes decades later, due to the injuries they sustained while serving their country.
"He was not a casualty of war, they'll tell you," Kennedy said. "The books closed back in '75. We had 80,000 men or whatever it was, and there were no more casualties from Vietnam.
"That's a bunch of crap.
"If you take all the guys who died from Agent Orange since 1975, that wall [in Washington, D.C.] would have to be five times as large as it is now. And if they died from Agent Orange, didn't they die as a result of the war? Aren't they casualties of war?"
A couple of hundred people remained at the park for American Legion Post 152's annual Memorial Day ceremony, which follows the parade from the bottom of Spring Street and up Main Street to the junction of Routes 2 and 7.
Kennedy was the principal speaker and held the crowd in rapt attention as he talked about a few of the veterans he has served since moving into the veteran's agent office after a career in the Williamstown Police Department.
The festivities, as always, featured an invocation from Post 152 Chaplain Kevin Hamel and the laying of wreaths by members of the post's ladies auxiliary.
Kathleen Carbone delivered an inspiring rendition of "God Bless America," the Mount Greylock Regional School band played the national anthem, and Adam Filson read "One of the Millions," a poem by World War I soldier Frank Bernard Camp.
The local American Legion post also presented burial flags to the families of three local service members who are no longer with us: Army Staff Sgt. John J. Runz, Army Spc. Mario Cristofolini and Army Spc. Joseph Brandon.
Runz enlisted in the Army less than a month after Pearl Harbor and was killed in action in the opening days of the Battle of the Bulge in December 1944. Cristofolini served during the Cold War in Bamberg, Germany, on the Czechoslovakian border. Brandon was drafted into the Army and was deployed to Vietnam.
While honoring those three and other men and women who have died, Kennedy reminded the crowd of the suffering that living veterans endure after their deployments come to an end.
"I've got two guys who did convoy duty in Iraq," Kennedy said. "You don't stack up your vehicles. You separate them. The Iraqis will send little kids out to run in front of your vehicles. The thing you've got to do is stop your vehicles so you don't run over the kids, and all the vehicles behind you stop, and on come the RPGs and rockets and everything else.
"So you have orders. You keep driving. I've got two guys who ran over kids.
"You don't forget that."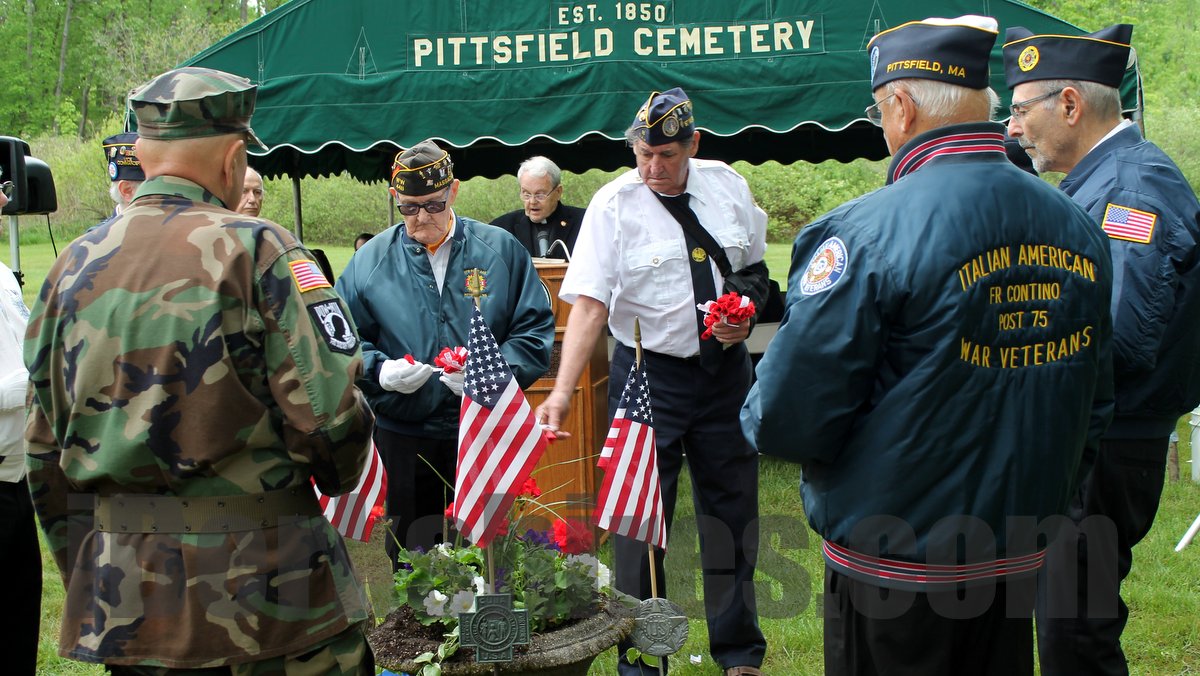 Pittsfield honored Memorial Day with a parade down North and Wahconah Streets and a ceremony at the Pittsfield Cemetery. There, the names of local veterans who died were read aloud while representatives from veterans groups tossed poppies onto a marker in remembrance. There were a rifle salute and taps, patriotic music from the Pittsfield High School band, and proclamations made honoring those who died.
Fran Tremblay served as the keynote speaker. The Pittsfield native joined the Marine Corp. in 1968 and was sent to Vietnam as a combat infantryman. He returned to Pittsfield in 1969 when his service ended and he was honorably discharged in 1974. Here at home, he is currently the chairman of the Berkshire Veterans Coalition and was one of the key players in opening the Vietnam Veterans Outreach Center on First Street. He is a former Boy Scouts committee member, former president of the Berkshire County Search and Rescue Team, a current director of the Pittsfield Sportsman's Club, and a member of multiple veterans groups.
"The servicemembers we honor today came from all walks of life but they shared fundamental qualities. They possessed courage, pride, determination, selflessness, dedication to duty, and integrity, all of the qualities needed to serve a cause larger than one's self," Tremblay said.
"Many of them didn't ask to leave their homes to fight in a distant battlefield and many didn't even volunteer, they didn't go to war because they loved fighting. They were called to be part of something bigger. They were ordinary people who responded in extraordinary ways at extreme times. They rose to the nation's call because they wanted to protect this nation."
Despite the losses in all of the wars, Tremblay said people continue to step up and are willing to serve for that greater good.
For the last few years, the ceremony had been rained on. But this year, it held off despite an overcast.
"It would be easy for us to curse the clouds, the cold, and the rain. And I often think of that on Memorial Day because it seems like for the last few years we've had in climate weather," Mayor Linda Tyer said.
"And then I remember that there were men who trudged through freezing snow and cold, sitting huddled together to stay warm in the icy winter months. Then I remember the men in the Vietnam War who trudged through tropical rain and heat and unbelievable conditions, all for us. They did it for us and our simple promise is to remember them."
Tyer said the city vows to take the time on Memorial Day to remember those who died.
"We come together today in a solemn remembrance. Today and every day we are Pittsfielders and we are Americans. We make a solemn vow on Memorial Day every year to remember those we have loved and lost, the brave men and women who sacrificed all for our freedoms," Tyer said.
North County American Legion members made their annual pilgrimage up Mount Greylock on Sunday morning to honor and remember friends and comrades.
After stopping midway up the mountain to share a cocktail and a toast to fallen comrades, the group made its way up to the Veterans Memorial. However, because of the whipping wind and thick fog, for the first time ever they held the ceremony inside the tower.
"We have been coming up to this pilgrimage for 85 years and I have been probably coming up for 30 and we have been here when it was raining and snowing but I have never seen it this cloudy," Adams American Legion member Don Sommer said before starting the ceremony.
Navy veteran and Executive Committeewoman of the American Legion Department of Massachusetts Sandra Kee was invited to speak and asked the attendees to remember the sacrifices veterans have made throughout the country's history.
"They each have stories to tell. The crosses at Normandy, the markers at the Punch Bowl, the tombs at Arlington and the fallen heroes that rest in places unknown," she said. "From our founding revolution to today's war on terror over 1 million men and women in the armed forces have sacrificed their lives while defending America in time of war."
Kee also asked that attendees remember the military families who have also made sacrifices and noted that acknowledging fallen veterans once a year is not enough.
"Remembering our fallen once a year is not enough. The widows, widowers, fathers, mothers, brothers, sisters, and children remember every day," she said. "The empty seat at the dinner table, the smaller gathering at Thanksgiving and the voice of a loved one that has become a distant memory are all reminders that they are no longer here today. Today is an opportunity to give thanks we owe it to those who have died and those who have been left behind."
After the ceremony, the Legion members had breakfast at the Bascom Lodge.
After a parade through the downtown accompanied by the Drury High School band, North Adams held its Memorial Day ceremony at the Veterans Memorial.
Master Sgt. James Michael Zieba, Section Chief, Det. 1A Co. Recruiting & Retention BN, MAARNG, Westover Air Reserve Base, addressed the crowd that gathered around the monument.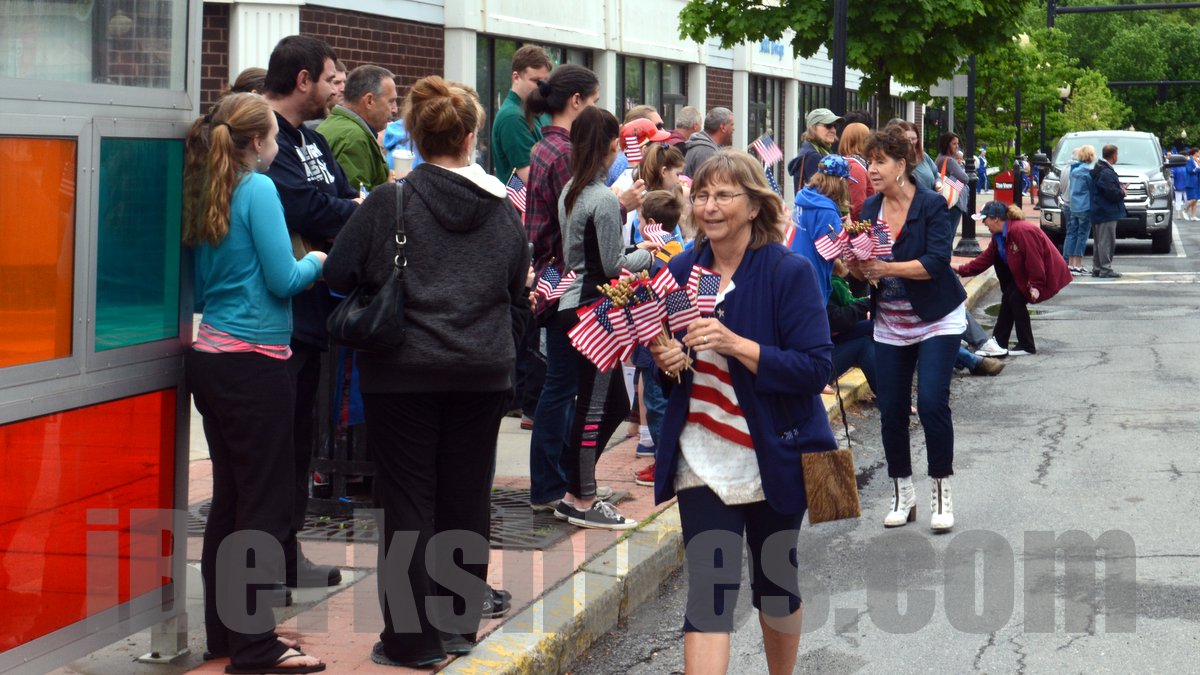 "Today we gather in remembrance of all of those who have made the ultimate sacrifice for freedom," he said. "Those fallen heroes who never came home to their families and friends. For generations of men and women who have served in our armed forces in both times of peace and war to preserve the gift of liberty that we Americans enjoy every day."
Zieba said he was an Army brat and was inspired by his father to join the service.
"My father was active duty in the special forces and was deployed numerous times in his career," he said. "I am proud to say that my father was my hero growing up ... I always knew because of who my father was I would follow in his footsteps I wanted to be him."
Zieba went on to say less than 1 percent of the population serves in the military at this time and he noted it takes a "special breed" to voluntarily put yourself in harm's way.
He added the best way to honor fallen veterans is to honor the noble cause they died for and protect freedom.
"Every life lost is a tragedy. It is a loss to our military and to our nation ... we see these white headstones in neat rows and they should remind us of those fallen heroes," he said. "We can only hope that the anguish of the families who have lost is tempered by the knowledge that there loved one died for a noble cause ... they gave their lives to bring peace, freedom and democracy to the troubled regions in the world."
Zieba said freedom is not a guarantee and needs to be protected.
"Freedom is never more than one generation away from extinction ... and each generation must be ready to fight for freedom and protect it so it can be passed to the generation that follows," he said. "That is what heroes that rest in peace under the Stars and Stripes ... did."
Mayor Thomas Bernard also spoke and said veterans have affected the lives of every American.
"We are here today to honor the memory of those who died in service to their country and understand the price that others have paid for our freedom," he said. "We know some of those names but there are too many for us to know them all but each one of them has shaped the course of each of our lives in some way."
He named Peter W. Foote who was killed during the Vietnam War in 1968 and Spc. Michael R. DeMarsico II who was killed in Afghanistan in 2012 and asked that even though buildings have been dedicated to these local heroes, that we always remember that these heroes were real people.
"These are signs of respect but we have to remember that these were real people and not just names on buildings," he said. "These are people with families who loved them with friends who miss them whose presence continues to reverberate in our community."
Ryan Michael Herold recited the Gettysburg Address and was also the recipient of the George Angeli Award.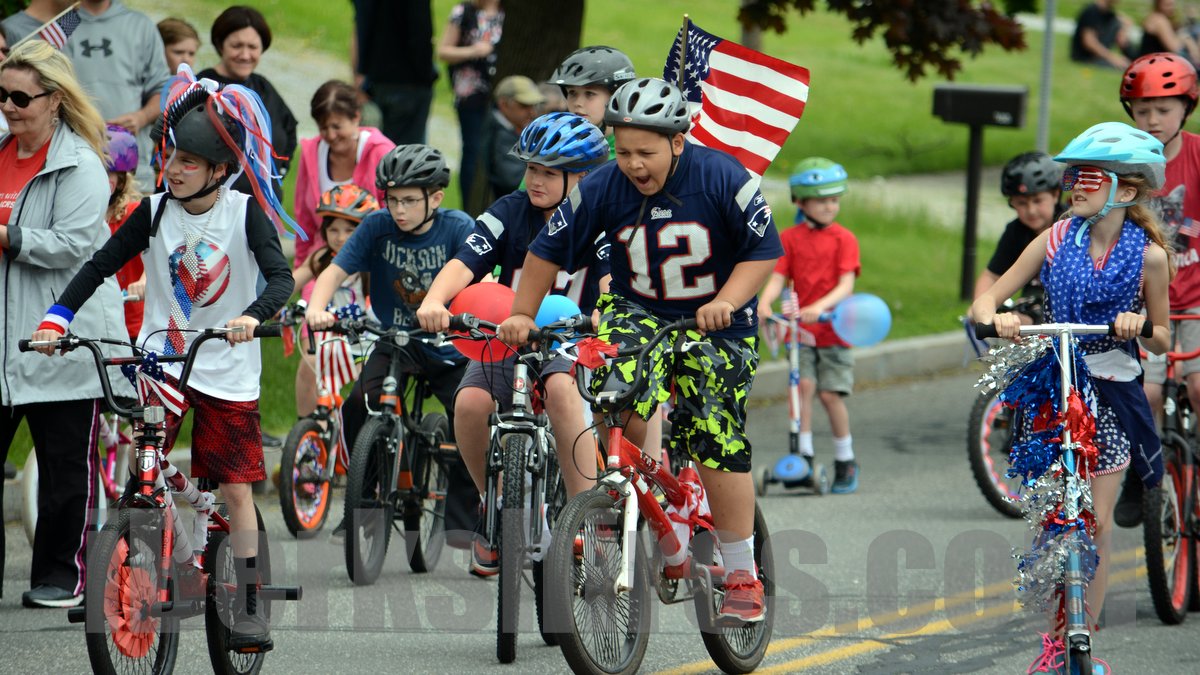 Cheshire held its Memorial Day ceremony at the cemetery on West Mountain Road after a parade through the downtown.
Selectwoman Carol Francesconi addressed the crowd and noted how special Memorial Day is.
"As we gather here today to observe Memorial Day we are forever grateful or the men and woman of our armed services who have laid down their lives for this great country," she said. "We must remember this sacred day is set aside to remember those who gave the ultimate sacrifice to protect our freedom."
She went on to talk about local veterans who answered the call of duty.
"We must tell the stories of the Cheshire Veterans listed on the memorial that left the safety of family and home to ensure that freedom indeed remained free," she said. "We must pass this to generation to generation…we must tell them that these veterans did not die in vain and we will continue fighting for what they believed and died for."
Francesconi said Americans need to unite and carry on the American principles that so many have died protecting.
"We must stand united in our fight against those who would threaten our democracy and we must not fight amongst outsells and forget the sacrifice that many soldiers are now making in several battlefields around the world," she said. "It is our responsibility to make sure that these veterans are not forgotten and that future generations know of the ultimate sacrifice they made for us."
Griffin Lancia read the Gettysburg Address, which was followed by the "Star Spangled Banner" performed by the Hoosac Valley marching band.
Staff writers Tammy Daniels, Stephen Dravis, Jack Guerino and Andy McKeever contributed to this report.