Monument Mountain Graduates Recognized for Resiliency During Pandemic
By Brittany Polito, iBerkshires Staff
09:35PM / Saturday, June 05, 2021
---
Monument Mountain Regional High School graduated 113 seniors on Saturday from its football field surrounded by mountains and greenery.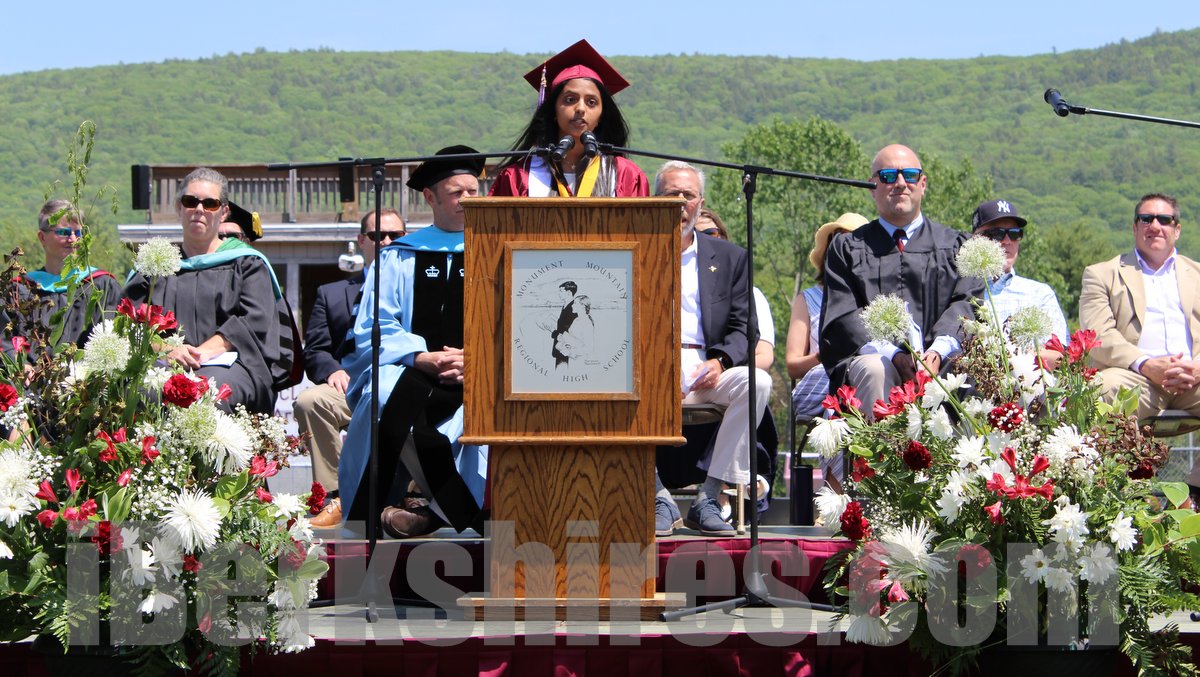 GREAT BARRINGTON, Mass. — Monument Mountain Regional High School graduated 113 seniors on Saturday from its football field surrounded by mountains and greenery.
The class of 2021 reportedly had a reputation of being "difficult" upon entering high school but quickly broke free from that label and proved the administration wrong.

They especially defied their bad reputation when the COVID-19 pandemic hit. Though the students' home and school lives were completely altered by the virus, they persevered through the school year with success.

"Your class stands out in your ability to be resilient to push ahead and continue to grow," Berkshire Hills Regional School Superintendent Peter Dillon said.

Valedictorian Karina Mahida addressed her and her classmates former reputation and how the class turned it around.

"We were known to be not-so-well behaved and also known for breaking a few of the windows out of middle school. To top it all off, the middle school had to, for the first time since the school was built, send a letter both warning the high school teachers of our behavior, while also encouraging them to give us the chance," Mahida said.

"We have been labeled as one of the most difficult grades, and that label would presumably stay with us for the rest of our high school experience. However, as soon as high school began, we let go of that label, we were able to break away from the normal patterns we were accustomed to."

Mahida said the students' worlds changed before senior year along with everyone else's. On March 13, 2020, they went from lunchtime conversations and walks around the school to be fully remote in less than a day.

In the past year, she said, she and her peers were tasked with fighting for fundamental human rights, women's rights, and addressing excessive political polarization of the country, yet they still showed up to class.

"A school year that we thought was going to be full of football games, school dances and senior skip days turned into a year of trying to avoid virus and attending classes through a screen, yet what was so surprising and inspiring was the way our class specifically handled it," she said.

"The supposedly 'bad class' still showed up each and every day, and did the hard work required of them. We showed up with good faith and were ready to make the best out of this year, no matter how challenging it was for us. We have lost everything in this past year. And we still believed in ourselves enough to not only show up for school, but also apply for college, prepare for the workforce, and end our final year of high school with pride."

Mahida said the group went from being a "dreaded group of students" to being celebrated by taking the responsibilities that come with age, building and maintaining relationships that allowed them to learn from one another, and discovering that they are capable of success, happiness, and confidence.

Mahida wil be attending Harvard University, where she plans to pursue biology, philosophy, and pre-med. She is a member of the National Honor Society and in her time at Monument Mountain was a leader in the school's restorative justice work, student government, service groups, and on athletic teams.

Salutatorian Abigail Zeik also spoke on the class's resiliency, relating it to her experience as a violinist.

"Freshman, sophomore, and junior year, I performed for auditions for the All-State Orchestra and was met with rightful rejections. This year, I wanted to change that. I believe I deserved a reward for my efforts but I still came up a few points short of acceptance, and I was devastated, feeling like I had run the biggest fool's errand in my life," she said, referencing "The Great Gatsby" by F. Scott Fitzgerald.

"I wanted to quit playing the violin, however, I realized something a few weeks later, ruining my last opportunity to play on stage was painful. But it taught me a lot about my weaknesses as a musician. It forced me to improve technically and helped me understand what I lacked emotionally. Less than a month after I swore that I would never play again, I picked out my instrument."

Zeik said she and her classmates have all run fool's errands or nonsense undertakings this year. Despite the risks posed by universal obstacles they continued to work, showed up to school, and made this year as fulfilling as possible despite the "ever-present worry they would fall."

She described her class as bright, talented, and ambitious.

"These past few years have been an incredible journey vital to the development of our characters and the value of our happiness no matter how your personal achievements may vary from the classmate sitting next to you," She concluded.

Zeik is also a National Honors Society member and served as class president. She plays first violin and participates in the All-Western Massachusetts District Orchestra every year as well as winning a National Orchestra Award.

She will attend the University of Connecticut where she plans to major in biological sciences or biochemistry.

Principal Kristina Farina thanked the students and families for their patience and flexibility through this markedly difficult year.

"Remember this is not an end but a beginning," she said.

School Committee Chairman Stephen Bannon also addressed the graduates, instructing them to look at the campus —which ranked nationally as one of the most beautiful high school campuses in America — and take in the beauty of their home for the last four years.