Monument Students Reminded to 'Maintain Balance'
By Stephen Dravis, iBerkshires.com Sports
05:14PM / Sunday, June 05, 2022
---
Monument Mountain Regional High School graduated 138 seniors on Sunday at Tanglewood.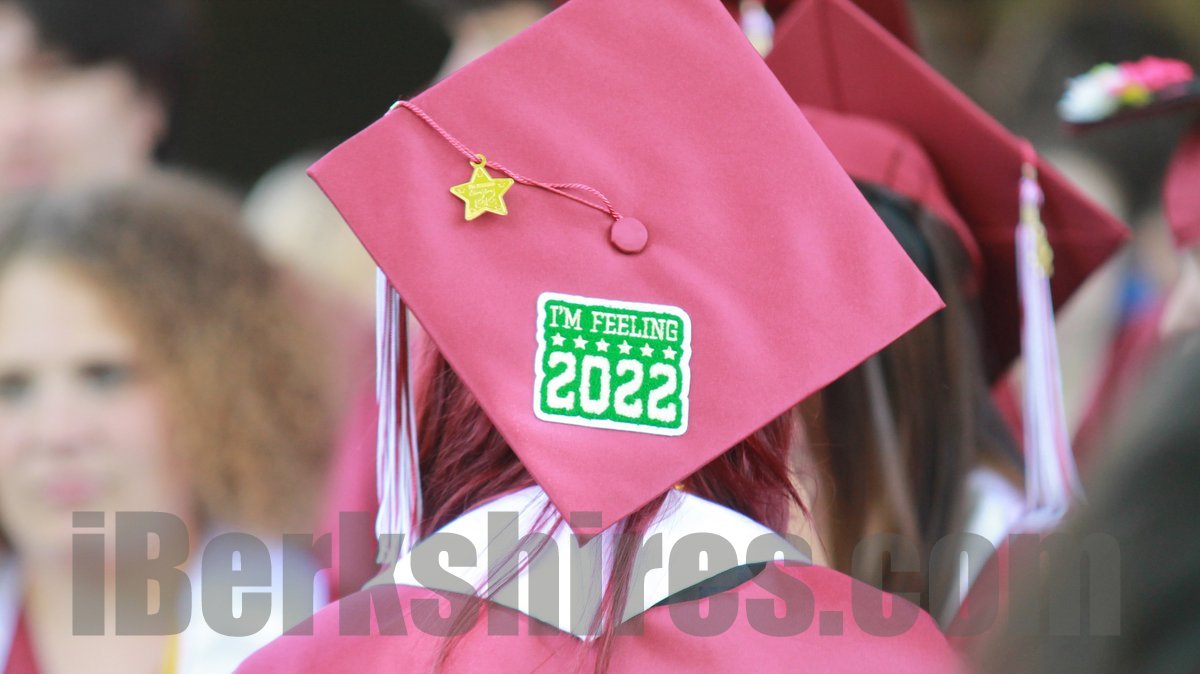 LENOX, Mass. — Maya Isabelle Velasco put a lot of effort into earning the grades that earned her the title of valedictorian at Monument Mountain Regional High School.
Perhaps, she reflected on Sunday, at times a little too hard.
"I sacrificed balance in my life to get the best grades," Velasco said during her valedictory address in Tanglewood's Koussevitzky Music Shed. "I prioritized school over everything: relationships, sports, sleep, my health. I should've stopped working on that paper to go to my friend's birthday party or finished some assignments another day to go cheer on a Monument sports team. At the end of the day, you're not going to remember that one bad test grade you got in a year, you're going to remember the memories you made and the experiences you had with the important people in your life.
"Don't get me wrong, working hard is so important, but it is so much more worth it to maintain a healthy balance of all the priorities in your life, especially the connections with your best friends, family, teammates, mentors, and classmates who all offer something different to your life, just like each person in our class has unique qualities, strengths, interests, and perspectives that bring irreplaceable value to our whole class."
Velasco used her opportunity at the Great Barrington school's 55th graduation to tell her fellow graduates just how "worth it" it has been to know them.
"Our class has done a great job in making the best out of a bad situation and I hope each of you can find a silver lining within your high school experience even with the large number of challenges and crazy circumstances we've faced," she said. "Being able to graduate, despite such challenges is an incredible achievement, one that takes immense perseverance and determination and is something our whole class should be proud of and take these characteristics with them to the next stages of their life."
Sunday's ceremony sent 138 graduates to their next stage and included performances by the school's band and chorus, remarks from the chair of the regional school committee and superintendent and parting words from Velasco and salutatorian Bailey Marie Carlson.
Monument Mountain Principal Kristina Farina told the crowd in the shed that Velasco has demonstrated more perseverance and resilience than anyone Farina has known.
"She constantly takes new opportunities to learn," Farina said. "In addition to her high academic standards of humility, she always exhibits humility, kindness and compassion for every member of our community."
Farina had similar praise for Carlson.
"Bailey Carlson is one of the most humble students I've had an opportunity to work with," Farina said. "And yet the impact she has had on our community has been remarkable.
"She has an exceptional work ethic, is a member of the National Honor Society and was the recipient of the Rensselaer Math and Science Award … Bailey always places significance on helping others and demonstrates this through the activities she engages in, such as volunteering to tutor her classmates and her work with Best Buddies."
Carlson told her classmates it is difficult for her to say goodbye. But, then again, she is used to such struggles.
"I've never been a huge fan of endings," Carlson said by way of beginning the festivities. "Whether it's the season finale of my favorite TV show, the final song at a long-awaited concert, or the last hours of a perfect day, all I can think about is somehow freezing time and living in that moment for just a little longer.
"I'll give you another example. Picture a 7-year-old. I'm sobbing, uncontrollably might I add, sitting in the window seat of a plane. I've just left aunts, uncles, and cousins after a weeklong family vacation and can't bear the thought of our trip coming to an end."
But despite her longtime struggle with farewell, Carlson was able to find the silver lining in Sunday's ceremony.
"Monument helped us find our futures, our passions, our people, and ourselves," she said. "From timid freshmen first entering those double doors to top dog seniors leaving to the lyrics of Taylor Swift's '22,' our turtle-shaped building has been there for us five days a week and 36 weeks a year for all four. It has seen some of our best moments and some of our worst, but most importantly, it has seen us, whether that be the freshman, sophomore, junior, or senior version. It has watched us grow into each and, above all, it has given us a safe space to do so.
"Most of us have been together since our elementary or middle school days which seem like just yesterday, and it's crazy to see how far we have come. But what I'm even more excited for is to see how far we'll go and where these new beginnings take us."